The only tool that will help your child in their life is education. It moulds their personality and helps them become ready for the challenges they may face in the future. And it gives them the skills to change society. 
The best thing you can do as a parent is to provide them with the best education possible. While there are a number of curriculums available, it is the Cambridge curriculum that is transforming young children into leaders.
But which Cambridge curriculum school in Ajman would be the best for your child? One institution that tops others is the Frontline International Private School (FIPS). Read on to discover why it is the best school in Ajman for your child.
All About Frontline International Private School
The Frontline International Private School is located in Al-Tallah 2, Ajman, spread across 5 acres. The institution aims to inspire excellence and purpose in young children while preparing them for the challenges they will come across in the complex and competitive 21st century. 
This school follows a well-designed Cambridge curriculum that places emphasis on creativity, academics, and personality development. Educators at FIPS inculcate unique methods in their teaching to ensure the learning is fun and impactful. 
What Makes FIPS The Best Cambridge Curriculum School?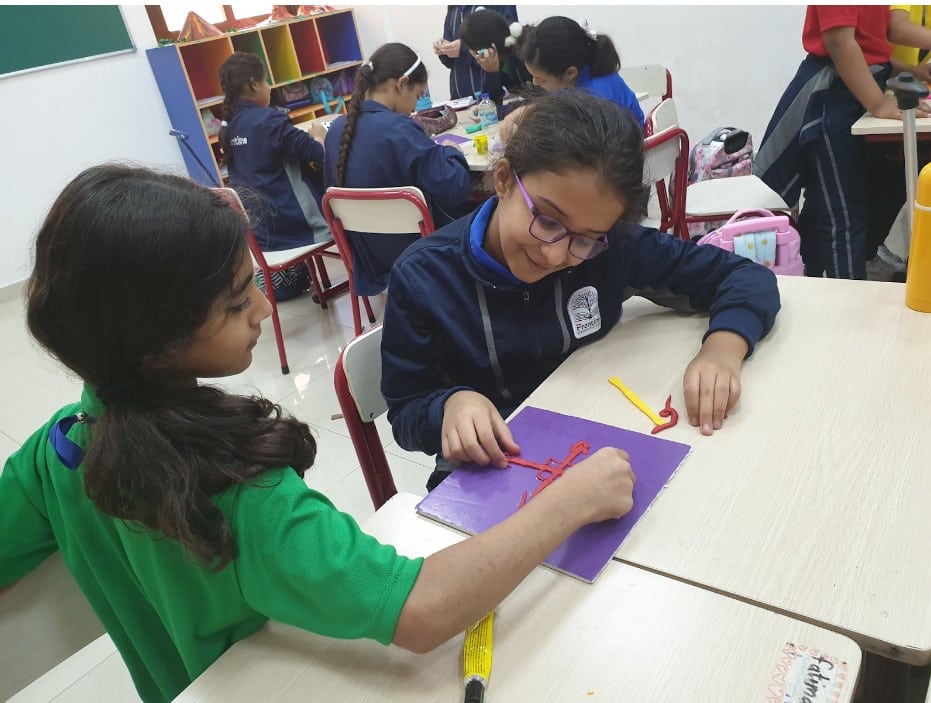 Frontline International Private School opened its doors to pupils in the year 2017 and has been striving to redefine education since then. The key aspects that make the school stand out among the affordable schools in Ajman are:
Universally Accepted Curriculum 
The Frontline International Private School follows the Cambridge curriculum from classes KG to Grade 8. It has an affiliation with the Cambridge International Examinations (CIE).
Cambridge curriculum, initially called Cambridge Assessment International Education (CAIE), offers a unique mix of local elements that relies on an international approach. The curriculum is inspiring, flexible, and challenging. 
The school offers a holistic mix of essential subjects with extracurricular activities to inspire children to engage in the numerous subjects and draw connections or comparisons between them. 
The curriculum based in England gives students a direction that helps them acquire the essential skills and knowledge to achieve their dreams and become successful in both academic and professional endeavours.
Four Explicit Stages
Since the school follows the international curriculum and syllabus, it also enforces predefined and explicit key stages. Educators and students both are well aware of these key stages, making it easier to track progress and find areas where students can make improvements. 
Key Stages (KS) are one-year instructional units in this curriculum, and they assess the pupils after every stage. The first stage of KG consists of the early years from ages 4 and 5. 
Post that, there are KS1 and KS2 phases consisting of the primary level. The KS1 stage includes children aged 5 to 7 and KS2 from 8 to 11. The secondary levels include KS3, from ages 12 to 14 and KS4, from 15 to 18. 
Expert Faculty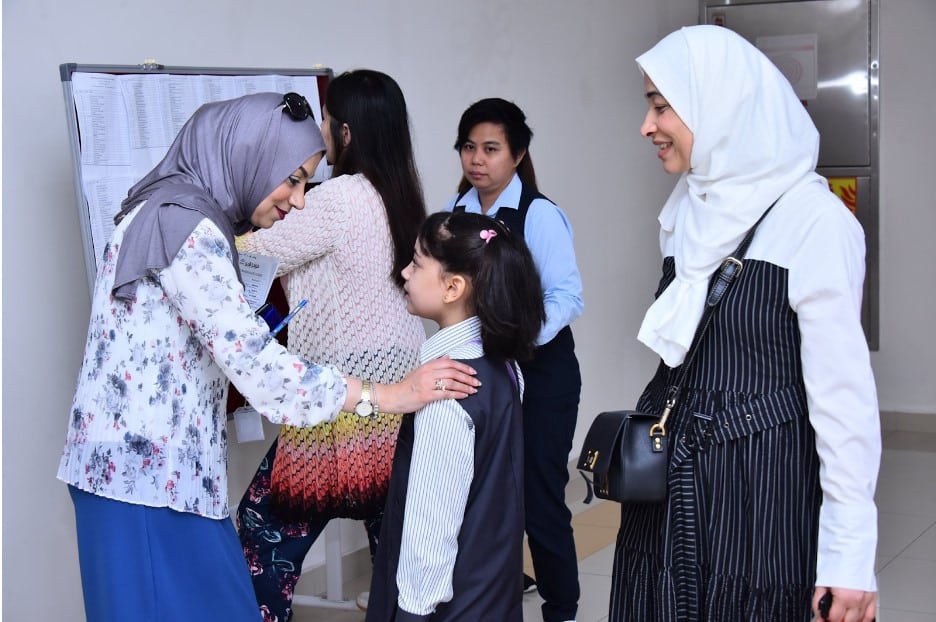 The primary factor contributing to the success of FIPS and its students is the skilled faculty. It is the abilities, skill set, in-depth knowledge, and expertise of the teachers that help children learn and grow. 
The teachers embrace the core values and work dedicatedly towards shaping the lives of young children through creativity, making it the best school in Ajman. 
The faculty follows a rigorous process to select the faculty from abroad, which includes an interview, induction, and a practical demonstration of the skillset. The school authorities hire someone who is a mix of both experience and education. 
The teachers also go through regular and focused training sessions that ensure they stay in touch with the new developments in the fields and help children stay up-to-date. 
Well-Equipped Campus
The Frontline International Private School has a campus that is modern, well-equipped, and state-of-the-art. It spreads across a vast area of 5 acres in central Ajman and consists of advanced infrastructure that promotes learning. 
The spacious classrooms fit 25 students easily and have whiteboards, overhead projectors, and a computer sound system that teachers use to deliver lectures. Their multi-purpose hall houses over 1200 students at one time.
There are computer labs, a library, and even a canteen serving healthy food that can accommodate 300 students at once. Students can also enjoy Wi-Fi connectivity in select places on campus. 
FIPS campus is also equipped for sports and fitness. There is an indoor sports complex that includes a basketball court, a gymnasium, badminton courts, and table tennis tables. The infrastructure of the institution ensures a child can reach their full potential in every way. 
Easy To Access Location
Another factor contributing to the success of FIPS and making it the best school in Ajman is accessibility. The school is located in a picturesque northern emirate of UAE – Ajman-Tallah-2. 
It is a safe and residential area that is suitable for children. All the necessary lifestyle amenities here, like schools, restaurants, and supermarkets, are available in the vicinity. 
The school is close to people living in nearby communities like Al Mowaihat 1, Al Mowaihat 3, Al Rawda 2, and Al Rawda 3. 
Promotes Overall Growth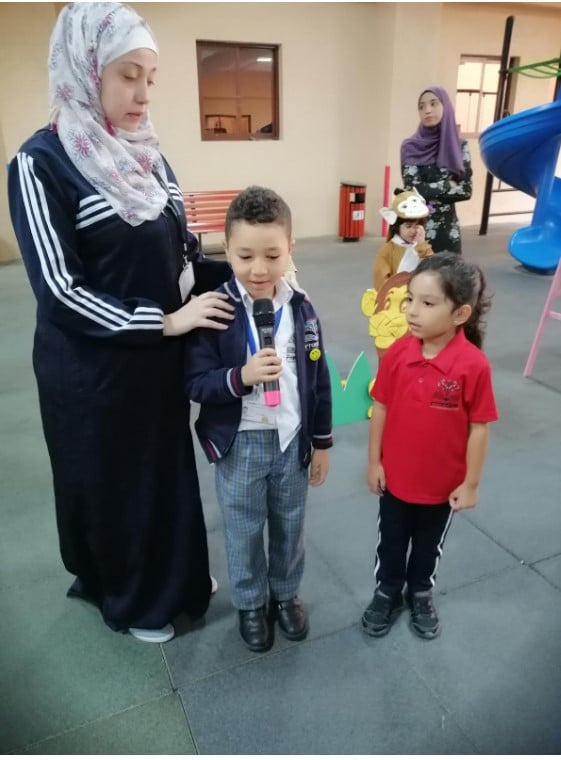 While academics form the foundation of a child's growth and development, it is co-curricular that give their life a well-defined path. It also helps them gain essential life skills needed to succeed in the future. 
While most schools focus only on academics, FIPS focuses on co-curricular activities. Students participate in extracurricular programs and activities that help them gain confidence and discover their strengths. 
Teachers and parents both encourage students to actively take part in these activities to gain leadership skills and become recognised as role models.
Final Thoughts 
Your primary, as well as an essential responsibility as a parent, is ensuring your kids get a quality education. Therefore, you must take time to research and compare different schools. 
If you're looking for a Cambridge curriculum school in Ajman, look no further than Frontline International Private School. The points given above only scratch the surface of the benefits that this school can provide to your kids , which makes it the best school in Ajman!